Spotlight on Sketchiz Karaoke Rooms
Sketchiz is one of those places that's changing the image of karaoke.
Singing in this Geneva-based venue is proof that outdated karaoke is a thing of the past! Creating a chic, trendy, and a must-do experience is all in the details says Aïssé S., Sketchiz Karaoke Box Project Manager.
We spoke with Aïssé S. to get the ins and outs of running a successful karaoke box business.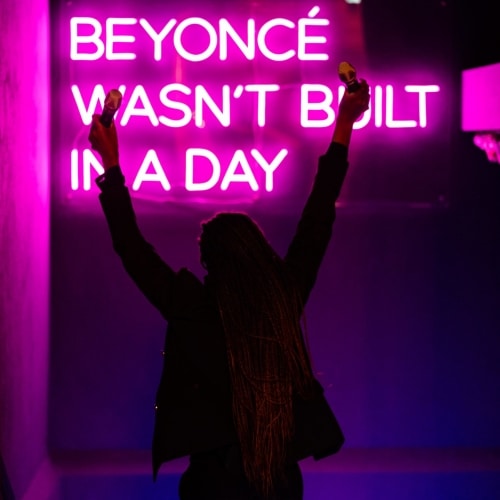 Who are your customers?
Our clientele varies: we've got the regulars, after-work crowd, bachelor(ette) parties, families, birthdays and an average age between 25-45. For the most part they [the clientele] come in groups of 5-15 persons and 90-95% of [them] book in advance.
How important is room decoration?
It is very important, we have lots of compliments on the decoration details! The details incite our clients to take pictures and videos and send them to their friends and family and post on the various social media platforms. The clients feel immersed in the ambiance and are at ease.
Keeping customers at ease is just important to the Sketchiz Team as a welcoming team that pays attention to details, both aspects that the Team credits with customers posting "great reviews and coming back for new experiences in the different rooms."
What surprised you the most about running a karaoke box business?
The number of reservations of big groups (+25 persons). We've got lots of small rooms but only one big for 15-20 persons.
What are the sizes of your 5 rooms?
Cabaret - 15 persons
Tokyo and Chalet - 8 persons
Pop Art and Disco - 6 persons
What are the most reserved and profitable rooms?
The most reserved are the Cabaret (15 persons), Tokyo (8 persons) and Disco (6 persons).
The most profitable karaoke room is the Cabaret because it can host the largest groups and is quite solicited for celebratory events (birthdays, bachelorette parties, corporate events, etc.).
How long are your karaoke sessions?
Every karaoke session is programmed for 2 hours with 15 minutes in between for cleaning.
How many staff do you have on hand?
Four at any given time. One person for welcoming guests, one for the bar, one for the kitchen, and one for service.
What are your operating hours?
Five p.m. to midnight on weekdays. The most booked days are on Friday and Saturday, we are open until 2h. People don't go out much at the beginning of the week so we are closed on Mondays.
Sundays we are open from 11h30-18h and offer brunch.
How long did it take to create your karaoke boxes?
Globally 4 months with about one week for the decoration of the rooms.
Any advice or tips to give someone looking to launch their own karaoke box business?
Be sure to aerate the rooms or have a good AC system.
Be sure to have an in-room call button for service.
Soundproofing the rooms is important.
Propose in-room snacks and drinks.
Staffing is important, be sure to hire a staff who pays attention to details and takes good care of customers.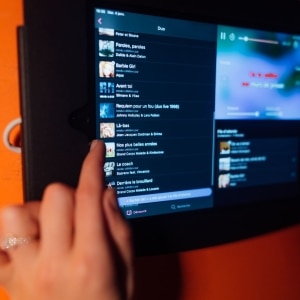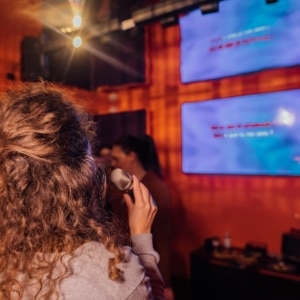 Why did you choose KaraFun Business?
We choose KaraFun Business based on a recommendation from our partners at Fun Planet, Rennaz. The interface is very easy to use, the features as well and the music selection in English and French is great, but we'd love to have even more Asian songs.
How was the process of working with KaraFun Business?
The KaraFun Business team explained everything really well and is always there for us, it was really easy to get things up and running. Great!
Conclusion
A successful karaoke box business means more than a microphone and a catalog of songs. Team Sketchiz has catapulted its business thanks to an eye for detail that contributes to exceptional service and has created an in-room experience that exceeds customer expectations.
Congrats Team Sketchiz and thanks for trusting KaraFun Business!
Sketchiz Bar Jeu Karaoke Geneve.mp4 from Recoonnect on Vimeo.
Visit Sketchiz: here.
Looking to start your own karaoke box business? Contact us, we're here to help!