Karaoke Boxes: a business plan that makes cents!
Despite the karaoke business booming (read more here), convincing investors, your bank, and various partners to get on board may present a challenge.
In this article, we'll provide you with the essential information to help prepare your karaoke box business plan and have you skipping all the way to the bank.
What is a karaoke box?
For decades, private karaoke boxes have been a familiar pastime in the Eastern World (discover the history of karaoke here) that are quickly catching on in the Western World.
Private rooms (also referred to as KTVs, karaoke suites, or karaoke boxes) are spaces that can be rented hourly by groups of 2+ in which guests can sing karaoke and order drinks and food.
Venue Types
Karaoke rooms are well adapted for several types of venues: karaoke bars, Family Entertainment Centers, restaurants, hotels, concert halls, museums, cruise lines…. Any space is karaoke-doable!
Examples
Since 2019, in addition to its very own flagship bars in France and Belgium with 33 rooms, KaraFun Business has opened almost over 400 karaoke rooms throughout the world: in the USA (LaLa St Pete, Casanova, Heart &Seoul, Kung Fu Saloon, ....) and in Europe (Back to Bac, Musikam, O'Leary's, ....) just to name a few.
Industry Analysis
The Karaoke Market is growing. Recent reports estimate it will reach USD 5,733.77 Million by 2024 (read more here).
And the Covid effect?
Just as many businesses took a hit during the pandemic, karaoke was no exception. However, karaoke private rooms have been able to bounce back more quickly thanks to leisure seekers looking for more intimate private spaces that karaoke rooms can provide.
Customer Analysis
Young or old, rocker or romantic, amongst families, friends, co-workers, karaoke is for everyone!
Based on internal research, 67% of bookings are made by 25-45 year-olds and 6 in 10 bookings are female.
Competitive Analysis
The leisure and entertainment market offers a variety of activities: bowling, cinema, darts, ax-throwing, etc. Being that private karaoke rooms can be adapted to any space (even 2 person rooms exist), they can be considered a complementary option to any venue.
Marketing Analysis
If you've succeeded in creating a fun experience for your customers, count on them to promote your business via word of mouth and social media. Private karaoke rooms have high Google reviews from customers and are often listed as a top night-life activity on TripAdvisor.
Event-based experiences (birthday parties, bachelorette parties, and team-building) abound with private karaoke rooms and are a great means to promote business and attract new customers.
And just as karaoke boxes can be adapted to any space, they're a destination activity that doesn't require a central and expensive location to operate. As they say, if you build a karaoke box, they will come!
Financial Analysis
Cost of a Karaoke Room
The cost of a karaoke room can vary but on average expect installation, decoration, and equipment costs to run on average 25k€ per room.
You'll find a breakdown of construction, decoration and equipment costs in our detailed article here.
Staffing
Karaoke rooms are self-operated and staffing them is minimal. Staff is needed for welcoming and check-in food&beverage service and clean-up between karaoke sessions.
On a high-volume night running at full capacity, plan at least one staff member for every 3-4 rooms.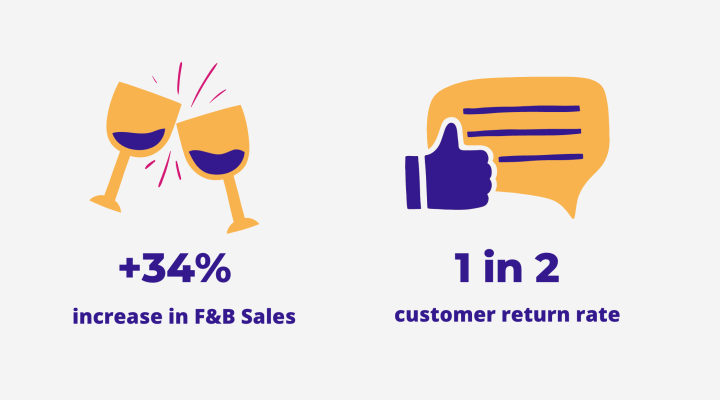 Profitability
The ROI of a karaoke room is high thanks to:
Self-operating rooms
Low maintenance costs
1 in 2 returning customers
34% increase in Food & Beverage Sales
Profitability estimations can be calculated based on two factors: karaoke sessions and food & beverage sales.
Karaoke Sessions
While pricing will depend on your venue's complimentary activities and location, an average 2-hour karaoke session on a weekday can garner from 8-10€ per person and 11-16€ on a weekend (rates can increase up to 20€ during seasonal holiday periods).
Food & Beverage Sales
Karaoke has always been synonymous with drinks and an in-box order service only increases the rate of consumption.
Research has shown that karaoke increases F&B sales by 34%! Estimate an average of 2-3 drinks per person for a 2-hour session for an average basket of 22€/person.
Have questions about the karaoke box business model or need help prepping your business plan?
Get in touch at business@karafun.com and follow us on Linkedin for industry news and product updates.