4 Tips from the manager of Europe's biggest karaoke bar
Staking claim as the biggest karaoke bar in Europe thanks to its 21 rooms, manager of KaraFun Bar Lille since its debut in 2017, Violaine Verhée knows a thing or two about running a karaoke box business.
We sat down with her to understand how she uses the KaraFun Business app to keep her customers happy and returning, all while maintaining the karaoke bar's title of #1 in Nightlife on Trip Advisor.
Here are her four tips for opening and running a karaoke bar business.
1. Make a routine
Even before singers come knocking at the karaoke box door, make sure to do a quick pre-open rundown. Creating a routine to ensure rooms are clean, the staff is prepped and the app and equipment in each karaoke box are functioning properly allows for smooth sailing on busy nights.
Start by spending five minutes per room to:
Launch the KaraFun Business app
Program a test karaoke session
Create a playlist of a couple songs
Check that business features are activated (QR code, scrolling banner, background music…)
Check microphones have battery and equipment is working properly
Ensure room cleanliness
2. Staff accordingly
Adapting the number of staff based on the night is important to keep clients happy, service excellent and year-end turnover high.
Holiday periods may require an extra hand as rooms are usually at full capacity, but 3-4 staff members is an adequate number for less busy weekdays, with 7 staff on weekends to cover the highest booking hours of 8 pm-10 pm (2 at bar, 2 serving drinks, 2 as hosts, 1 food prep).
And don't forget walk-ins! While online reservations may account for the majority of bookings, last-minute walk-ins are common on weekends and being prepared for such is important to keep in mind when staffing.
The number of staff needed at your karaoke box venue will obviously depend on the sizes of your private karaoke suites and whether you serve Food & Beverages (a 15 person room will certainly require more attention than one designed for four singers). Plan accordingly, keeping in mind that while smaller rooms (less than 6 singers) may be the most booked as it is easier to organize an outing for smaller groups, medium rooms (8-15 persons) are the most profitable (unsurprisingly since 34% increase in turnover due to F&B sales).
3. Tend to customer experience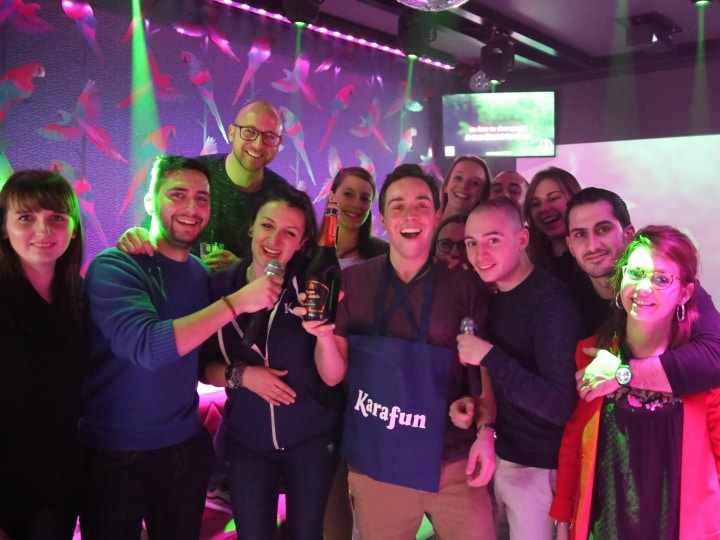 Karaoke is all about having a good time and while a private karaoke room is the perfect setting to let go and have fun, some first-timers may be reticent to sing and participate. Experience is thus all the more important and is what Violaine credits for her successful return rate of 1 out of 2 customers and a Google rating of 4.7/5.
So how do you create a stellar customer experience?
Make your customers feel welcome
Spend a couple of minutes before each session to create a human connection. Why not go over the specials, cocktails, and how the app works? Want to go the extra-mile? Display a unique welcome message (by activating the Scrolling Banner Feature), for instance, "Happy Birthday Sarah" or "Congrats Tom & Lucie". It's a unique attention they'll always remember.
Create an immersive in-room experience
While an attractively designed room is great for social media shares and free publicity for your karaoke box business, it isn't what makes the karaoke experience. The combination of an easy-to-use app, an extensive song catalog with 400 monthly additions, an immersive stage-like experience thanks to lights, and a smoke machine make an average karaoke experience into a great one. In-room costumes and props can add to the experience and incite singers to take photos and heightens the in-room experience.
Offer in-room Food & Beverage order
There's no denying that karaoke is synonymous with drinks. Having a menu of beer, wine, spirits, and fashionable cocktails helps drive sales (up to 34%). Shake up your cocktail menu to keep customers coming back with a Cocktail of the Month and catchy names like The Road to Memphis.
Consider an in-box order system as it is an additional revenue generator. In-room contactless payment is appreciated by customers in large groups not wishing to worry about splitting tabs. If contactless payment isn't possible in your venue, set up an order system and communicate clearly to your customers how it works. It could be a simple "We'll check in with you every 20 minutes" or a door-bell type system that allows customers to call the bar when needed.
Respect health measures
Helping customers feel safe and secure is vital after the current health crisis. Karaoke in a private space, amongst friends, family, and acquaintances is a beneficial alternative to sharing space with the unknown public. Clearly communicate measures taken to keep the karaoke boxes safe (cleaning schedule, gel, microphone caps, etc). Read our dedicated article about #safekaraoke here.
Create an after-session cleaning schedule
It may seem obvious, but a clean environment promotes a good image of the venue and puts your customers at ease. Schedule at least 10-15 minutes (depending on box size) for proper cleaning in between karaoke sessions.
4. Know your market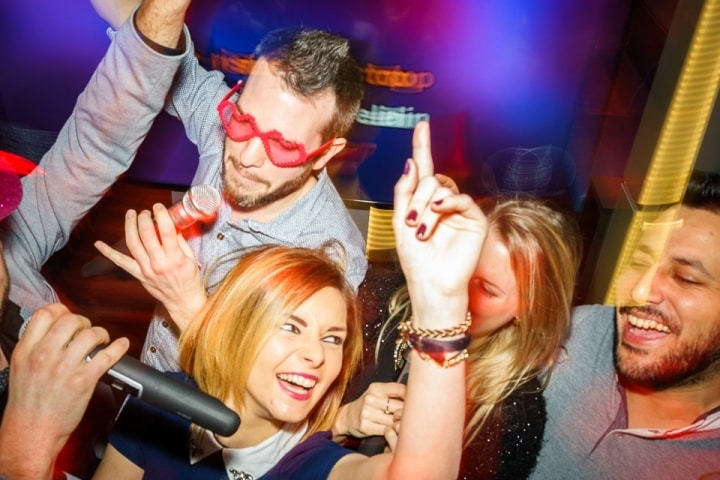 While it goes without saying that any successful business requires knowing one's market and clients, knowing what works best for your market may boil down to simple trial and error.
Test operating hours, target clientele and communication
While Fridays and Saturday openings are obvious, maybe your venue's location allows for karaoke lunch sessions on a Monday or after-school openings on Wednesdays. Test the market and see what works best for your business' location.
Bachelor(ette) parties, team-buildings, friends, and families are a no-brainer, but have you thought of targeting your communication efforts towards kids' birthday parties or even weddings?!
Post regularly on social media, and encourage customers to do the same. The scrolling banner can once again be useful to display your karaoke bar's social media handle and hashtag as a reminder.
Suggest songs and playlists
Knowing what clients want to sing is also important. With 400+ new additions each month, your customers are sure to find something to suit. But knowing their needs and their preferences allows you to serve them better. Try mentioning the various playlists in KaraFun Business and encouraging them to make suggestions on the rare occasion that a song is missing.
Conclusion
Karaoke goers are looking for an experience. From the easy-to-use app, song selection, friendly staff, immersive ambiance …. It's the combination of details that gives KaraFun Bar Lille an experience that customers keep coming back for.
See for yourself! Visit KaraFun Bar Lille here.
Interested in starting your own karaoke box business?
Get in touch at business@karafun.com!