Best practices to use KaraFun Business app in your karaoke box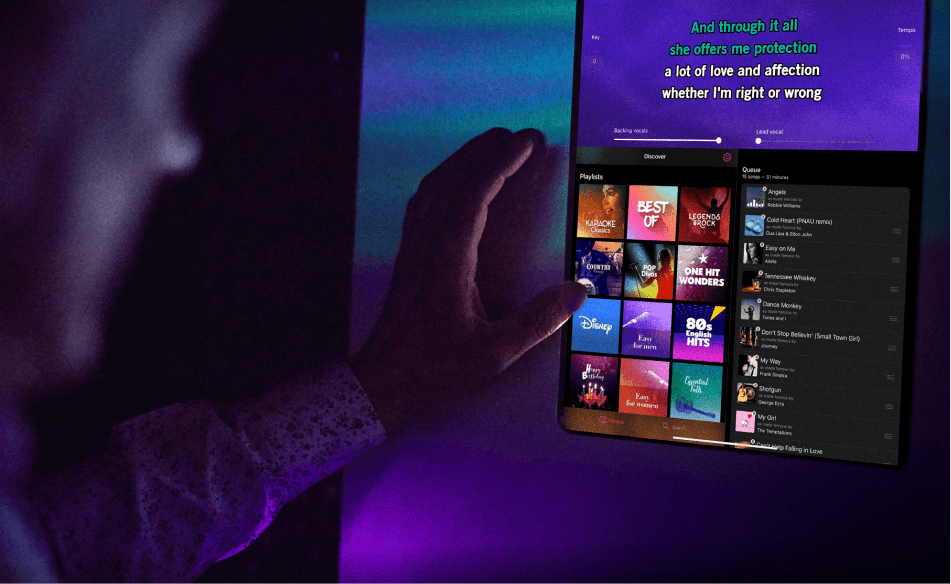 You're prepped for opening your karaoke box business, the KaraFun Business App is installed and you're counting the hours until opening day!
And while the KaraFun Business App is easy to use, making the most of the features will help you run your karaoke business more efficiently.
In this article, we've prepared an easy-to-follow guide to help you (and your employees) learn the best practices in mastering our app along with the daily checks to ensure smooth karaoke box sessions and a guaranteed a good time for your customers.
Give your customers what they want to sing
Our KaraFun Business App has thousands of karaoke songs each mixed and produced specifically for sound and video quality. And most importantly, each month 400 songs are newly added and accessible just by opening the application and checking the "New Releases."
We've got dozens of playlists in a wide assortment of genre varieties so your customers can always find what they want to sing. Additionally, our song catalog is comprised of 10 main languages like English, French, Italian, Spanish, etc, but you'll also find some KPOP, Arabic, Swedish, etc.
And if you can't find a song you are looking for, shoot us an email and suggest it! If our licensing team can get the rights and we have enough of a demand for it, it shouldn't be long before you see it as part of our catalog!
Tip: Any song can be swiped to the right to be added to the song queue.
Top features for running a karaoke session
Smartphone Control
For larger karaoke boxes with groups, we recommend activating our Remote Control Feature to give your customers the possibility to connect to the song catalog directly from their smartphone by either entering the URL or scanning the QR code displayed on the TV screen. Your customers will even have the opportunity to send selfies and photos to the TV from their photo library!
To activate the Remote Control Feature: go to the app settings then click on REMOTE CONTROL > DISPLAY QR CODE > MANAGE PERMISSIONS.
Session Timer
Save time and headache by programming the length of any karaoke session for up to 24 hours. When the session ends, clients will no longer be able to add songs to the playlist. A red line in the song queue indicates when a session will be over in terms of the number of tracks already in the queue and a time is displayed to indicate the remaining time.
Tip: It is easy to reorder the songs in a playlist by pressing, holding, dragging, and dropping the three vertical lines to the right of any song in the queue.
To activate the Session Timer Feature: go to the app SETTINGS > BUSINESS SETTINGS > SET SESSION TIMER. If your customers want to extend the time of the session, simply go back to settings and UPDATE TIME.
Modify Song & Voice Volume directly from the app
Turn up the beat! Adjust the overall volume of the song directly from within the application on the iPad instead of giving clients direct access to the mixer. Modify the lead and background vocals on any song to completely customize the song volumes.
To activate the In-App Volume controls: go to SETTINGS > BUSINESS SETTINGS > PLAYBACK > CONTROL THE EXTERNAL OUTPUT (requires mixer confituration).
Password Protect Settings
Block your customers from accessing anything beyond the song catalog and queue by setting password protection. Only your team and those with the code will be able to access and change any settings.
To activate the Password Protected Settings: go to SETTINGS > BUSINESS SETTINGS > SECURITY > LOCK SETTINGS WITH PASSWORD
Offline Mode
Good internet connection is essential to a great karaoke box experience for your users. We recommend a DSL or a Fiber-Optic connection with at least 20 megabyte but in case of an internet emergency, we advise synchronizing songs in offline mode. We strongly recommend using the offline mode only as a backup as you cannot use the Remote feature and will not have access to the pre-made playlists images while offline. As this feature is only used as a backup, it is not necessary to download the entire catalog and 10k-20k songs are sufficient for your customers to continue singing in the event that there is a hiccup. Keep in mind that for each synchronized song you need a minimum of 5 MB. Check the exact amount of space needed in the offline settings.
To activate Offline Mode: go to SETTINGS > OFFLINE
Scrolling Banner
By activating the scrolling banner, your customers can see who's song is up next. The names of five singers and songs are displayed on the TV.
You and your team can also create personalized messages and even promote your business with daily specials or offers or welcome your customers to the private karaoke box with a customized message.
To activate the Scrolling Banner: go to SETTINGS > PLAYBACK > SCROLLING BANNER
A Checklist before each session
For the best possible KaraFun Business karaoke experience, there are a few to-dos before each session:
Check that your internet is on and connected, that the iPad and the microphones are both fully charged.
Be sure to replace the batteries in the microphone, and charge the ones that were just taken out.
In the event you need to change the language of the app (our app is available in English, Spanish, French, Dutch, and German), this can be done from your iPad Settings. To choose a language, go into the iPad settings, to MENU > GENERAL > LANGUAGE AND REGION > CONFIRM.
We recommend activating the iOS feature called GUIDED ACCESS. This feature allows you to lock the iPad to the KaraFun Business App so that customers can't access anything beyond the KaraFun App. Check your iOS settings to activate your option.
Some troubleshooting tips:
In the event that you run into a small hiccup, we've gathered a few simple fix-it-yourself ideas.
Internet Troubles
As mentioned previously, should the internet cut out and you can't get it to connect again, any songs saved in the offline mode will still be available. It is important to remember that while in offline mode, the remote control feature and playlist images are not available.
Sound Issues
If there is no sound coming from the TV, check to make sure that all cables and sound systems are properly plugged in. Once the app is up and running, check to see if mixer volumes are properly adjusted. Also, verify any sound buttons are on.
App Issues
In the rare event that the app malfunctions, we recommend completely closing out of the app and reopening it (logging out isn't necessary). Be aware that you may need to program a new karaoke with the session timer. We also recommend verifying that you have the latest versions of KaraFun Business and iOS (read our blog here on the best practices for iOS).
We're here for you!
Need help or have questions about the karaoke box business? Get in touch with our team at business@karafun.com.